The Industrial, Commercial & Institutional (IC&I) sector includes businesses, industries, or commercial operations including stores, manufacturing, offices, hospitals, schools, etc. If you are a part of this sector please continue reading to find out your responsibilities and ways that you can achieve your waste diversion goals.


What are the Responsibilities of the IC&I Sector?
The IC&I Sector, which includes businesses, hospitals, schools, etc. have the same legal obligations to comply with Provincial legislation by sorting their waste as homeowners and tenants. 
Click here for a Summary of the Nova Scotia Solid Waste-Resource Management Strategy online.
Valley Waste offers a number of services to the IC&I Sector
Valley Waste offers businesses help in starting and improving waste systems through education and waste audits.
For a waste audit an Education Coordinator assesses your waste and then offers recommendations on implementing a system or improving an existing one.
If you are having trouble with your staff complying Valley Waste can make an educational visit for your staff.
Valley Waste also has a large selection of resources to help with your waste needs.
For other recycling collection programs visit TerraCycle
To request a visit you can call 902-679-1325 or email us at education@vwrm.com
C.N. Orde & Sons
Contact: Darin Orde Location: Lequille
Area: Bridgetown – Bear River
Phone: 902-532-7440 annapolisdepot@outlook.com
EFR Environmental
Contact: Rodger Ward Location: Middleton
Area: Kings, Annapolis, Hants
Phone: 902-825-3222 info@efrenviromental.ca
K & M Waste Management
Contact: Mike Kinsman Location: Canard
Area: Kings County
Phone: 902-582-7528
Waste Pro Services
Contact: Shane White Location: Digby
Area: Cornwallis
Phone: 902-245-2978  wasteprotrans@eastlink.ca
Sanford's Property Maintenance & Management Ltd
Contact: Kirby Sanford Location: New Minas
Area: New Minas and surrounding areas
Phone: 902-670-1066   902sanfords@gmail.com
SafeGuard Services
Contact: Terry Ellis Location: Kentville
Area: Kings County
Phone: 902-678-0275 info@safeguardservices.ca 
Bin Buster Plus
Contact: Stephen Melanson Location: North Alton
Area: Wolfville to Kentville
Phone: 902-698-3830 Notes: Bin cleaning
Live to Serve Haulers
Contact: Derrick Owen Location: Lakeville
Area: Annapolis Valley
Phone: 902-670-9831 ltshaulers@gmail.com Notes: Bin cleaning
Peter Moreland
Contact: Peter Moreland Location: Kingston
Area: Aylesford to Middleton
Phone: 902-765-9718 peter.moreland2016@gmail.com
Steve Lake's Light Trucking
Contact: Steve Lake Location: Auburn
Area: Annapolis Valley
Phone: 902-844-0551
Alan Johnson Property Maintenance
Contact: Alan Johnson Location: Port Williams
Area: Annapolis Valley
Phone: 902-599-2976 alan@ajpm.ca
The Management Centres were designed to handle limited amounts of construction and demolition debris (C&D). If you need to dispose of more than 10 cubic yards per day, please call 902-679-1325 ahead of time.
Tip: Source separated C&D is cheaper to dispose of then mixed C&D. By keeping certain C&D materials separate, they may be reused or recycled — this makes them cheaper to tip. (Tipping Fees)
When planning your construction or demolition project, plan to keep the following materials separate — it will mean a cost savings of $45/tonne at disposal time: brick, block, concrete, asphalt shingles, wood/brush (up to 6″ in diameter), drywall, asphalt
The following construction and demolition disposal sites are privately owned and operated. Contact them directly for further information: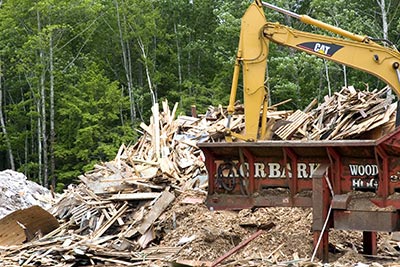 Arlington Heights C&D Site, 1481 Arlington Rd, Arlington West 902-665-4650
Torbrook C&D Disposal, Uhlman Branch Rd, Nictaux  902-765-9199