Disposing of Household Hazardous Waste (HHW) safely
A product is considered Household hazardous waste (HHW) if it bears one of the symbols shown here, or if words such as Danger, Poisonous, Caution, or Warning appear on the label. Hazardous products cannot be disposed of in regular garbage, they require special disposal. 
Bring your household hazardous waste one of the permanent HHW depots for proper disposal. The depots are located at the management centres in Lawrencetown and Kentville and there is no disposal fee.
The depots are designed to accept residentially generated HHW, no commercial waste please. Click on the item below to find out how to safely dispose of it.
CFL and Fluorescent Bulbs
Bring your CFL Bulbs or fluorescent bulbs to the Management Centre for proper disposal.
Meet Brian and the Bulb Eater! Brian, along with some of our other employees, has been trained and certified to use the Bulb Eater. The Bulb Eater makes it safer for us to dispose of fluorescent bulbs by separating the mercury, phosphorus and glass into different compartments. The lamps are separated into glass, metal, and mercury. The container with the mercury and phosphorus are part of taken care of through our Household Hazardous Waste

Gasoline and diesel can be brought in for free to the transfer station under our Household Hazardous Waste (HHW) for disposal. The gas or diesel containers must be left behind. 
Propane Tanks (Large & Small)

Propane Cylinders (up to 30lb): Propane cylinders up to 30lb can be returned to some propane retailers or the Valley Waste Management Centres. 
Pesticides and Herbicides

Household pesticides and herbicides are considered Household Hazardous Waste and can be brought into the transfer station for free. For commercial pesticides or herbicides, contact the supplier or contact a local hazardous waste company dealing in commercial quantities.
Paints, Stains and Finishes

The Nova Scotia paint recycling program accepts residential paint products including alkyd paint, latex paint and paint aerosols at a variety of recycling locations including our Management Centres, retailers and some local ENVIRO-DEPOT™ may accept paint free of charge. For full details of accepted products, please visit the Nova Scotia paint program page.

When not properly disposed of, pool chemicals are dangerous. They can cause skin irritation to your garbage collector, release poisonous gases, and even create a chemical reaction explosion or fires in garbage trucks.
They also contaminate the soil and groundwater when dumped out at home or put into a landfill. Bring them in for free to the transfer stations for proper disposal through our HHW program. 

"Empty" bottles and other containers often have hazardous corrosive residues inside them. Never use these "empty" containers for anything else, no matter how clean they seem to be. Treat them as corrosive wastes. Never dispose of corrosives down sinks or drains that connect to sanitary or storm sewers. Dispose of them according to the manufacturer's or supplier's directions, or bring them in for free to our transfer station to be disposed of safely. 
Motor Oil & Automotive Fluids

Instead of sending used oil in landfills and harming the environment, a new program is now helping people safely dispose of them, along with used glycol (antifreeze), oil filters, containers (oil, glycol (antifreeze) and DEF), aerosol cans for lubricants and automotive part cleaner — and recycle them to give them a second life. Valley Waste will accept oil and automotive fluids in containers no larger than 20 litres. Find your nearest collection facility!
Aerosol Cans containing hazardous substances

Aerosol cans that are completely empty (i.e., no product or propellant remains in the can) may be disposed of in the trash. Cans that have any product or propellant remaining inside can be brought in for free to the transfer station for proper disposal through our HHW program.
Household and Lithium Batteries

Some lithium batteries can be flammable. Aim to drop batteries to recycle within six months, ensuring they are bagged or taped. You can use our locator to find the nearest drop-off site. Visit www.call2recycle.ca for more information on safely storing and disposing on your batteries.
Help keep batteries out of landfills!
Pharmaceuticals and Drugs
NEVER flush or throw out your medications!
Nova Scotia has a province-wide program for the disposal of household pharmaceutical waste called The Medication Disposal Program. This program allows patients to return ANY medications they no longer need or "dead drugs" to their local community pharmacies for safe disposal at absolutely no cost! Nova Scotia's Medication Disposal Program is administrated by the Pharmacy Association of Nova Scotia(PANS) and disposal costs are paid for by pharmaceutical companies.
Pharmacies can accept any unused or expired medications  including any over the counter or prescribed medications, Narcotics and other controlled medications.
Medications that are disposed of in an incorrect manner may cause environmental hazards, patient privacy breaches or may result in drug diversion and misuse. Lack of disposal or excessive storage of old medications in medicine cabinets may lead to medication administration errors, unsafe use of expired medications and drug diversion or misuse.
Item's Not Accepted :
Sharps, needles or syringes
Cosmetics
Empty pill bottles
Note: This program is NOT for any commercial enterprises, including: doctors' offices, vet clinics, shopping malls, long-term care facilities, nursing homes, assisted living facilities, workplaces, etc.

For your safety and the safety of others: Sharps should only be placed in a Safe Sharps Container. Used sharps must be handled properly.
DO NOT put needles, syringes or lancets in plastic bottles or jugs.
DO NOT put needles, syringes or lancets in garbage or recycling bags.
DO NOT flush needles, syringes or lancets down the toilet.
DO NOT burn needles, syringes or lancets.
Please follow these steps to safely dispose of syringes, needles, and lancets:
Pick up a free Safe Sharps container at your community pharmacy.
Place your used syringes, needles and lancets into the Safe Sharps container.
When the container is almost full, seal the lid.
Return the sealed container to your community pharmacy
The Safe Sharps program is funded by Nova Scotia's pharmacies, sharps manufacturers and medication distributors. For more information visit https://pans.ns.ca/public/programs/safe-sharps 
Note: The Safe Sharps program does not include used sharps from any commercial enterprises including medical, dental or veterinary clinics, home care professionals, assisted living facilities, nursing homes, long-term care facilities, or farms. To properly dispose of these types of sharps, please contact your respective professional association. 

Nova Scotians can return up to four regulated used tires for recycling to any tire retailer in the province, during their regular business hours – free of charge.
When you are purchasing new tires, or putting on winter/summer tires, simply leave any unwanted or worn-out tires at the tire retailer. For more information click HERE or download a brochure.
Please note: ATV and Tractor Tires are NOT part of the program and can be brought into the transfer stations for disposal for a fee.

Nova Scotians can return used bicycle tires for recycling to any of the bicycle retail & repair shops on our Bicycle Tire Recycling Drop-Off Locations list. Tires must be dropped off during regular business hours. The Bicycle Tire Recycling Program is voluntary and free of charge—Divert NS covers the costs of running this program.
The program is FREE for bicycle tire retailers, FREE for consumers, and applies to all bicycle tires and tubes except tubular tires, which are glued to special rims.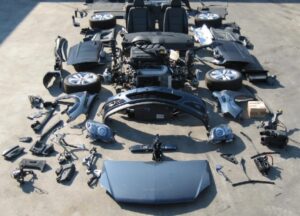 For more information and member locations, visit the Automotive Recyclers Association of Atlantic Canada's website. Photo credit: Auto Recyclers of Canada.
Automotive Recyclers Association of Atlantic Canada
Formed in 1972 as the Maritime Auto Wreckers Association, the Automotive Recyclers Association of Atlantic Canada has grown in to a robust industry association representing professional auto recyclers in the four Atlantic Provinces – New Brunswick, Nova Scotia, Prince Edward Island and Newfoundland.
Auto recycling is much more than making sure your vehicle is depolluted properly. It also makes sure that the Vehicle Information Number (VIN) is properly managed, and quality Green Recycled Parts are available to insurers, repairers, dealers and the motoring public.