Spring and Fall Clean-ups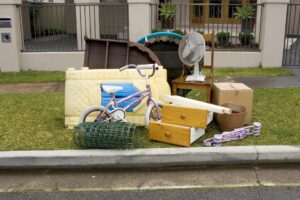 Valley Waste offers two bulky waste clean-ups a year, one in the Spring and one in the Fall. Clean-up weeks fall on the opposite week to your regular collection.
Your regular garbage collection day is used as a guide for your allocated Clean-up Week. For example, if your regular garbage collection day is Tuesday, Week 2 or Wednesday, Week 2 then your allocated Clean-up Week will be the May 8th to 12th for Spring Clean-up and October 9th to 13th for Fall Clean-up. Please note that Clean-up does NOT happen on your regular garbage day.
You are allowed up to 20 items for Clean-up Week collection and they must be curbside no later than 7am on the Monday of your Clean-up Week. The truck will be along once during that week. There is no specified day but trucks have been known to arrive on the Monday so make sure to have your items curbside to ensure collection.
Please refer to our maps below, our calendar and/or our social media for more information and clean-up rules.
Clean-up Areas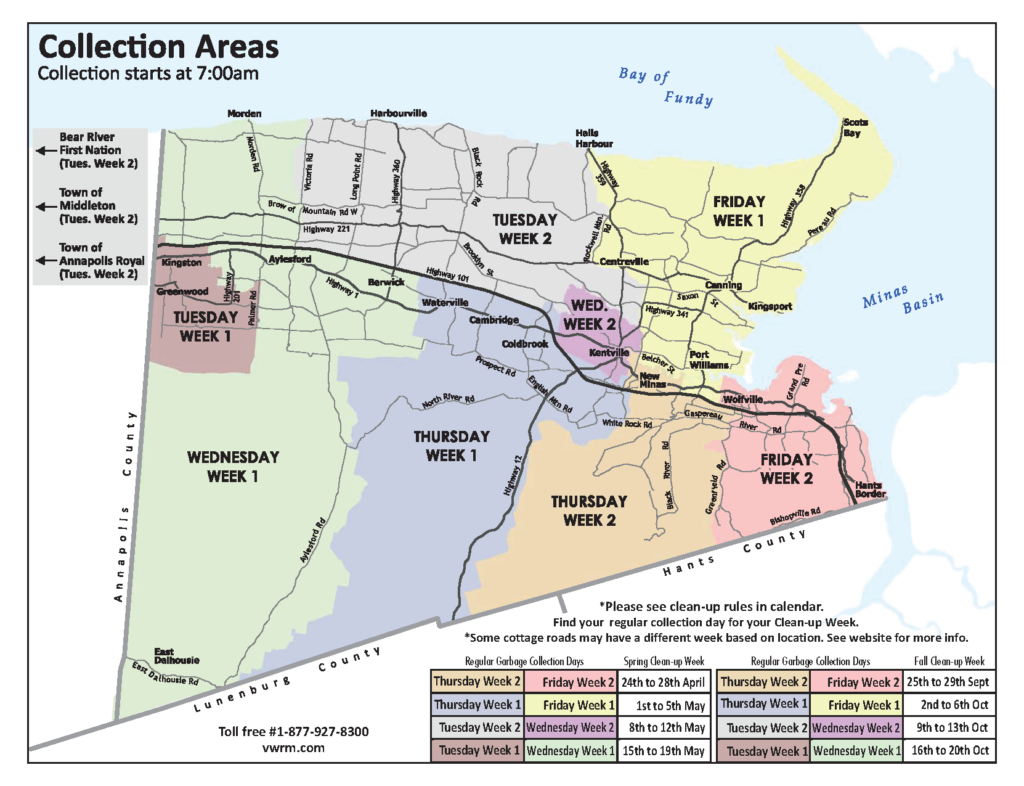 Clean-up Rules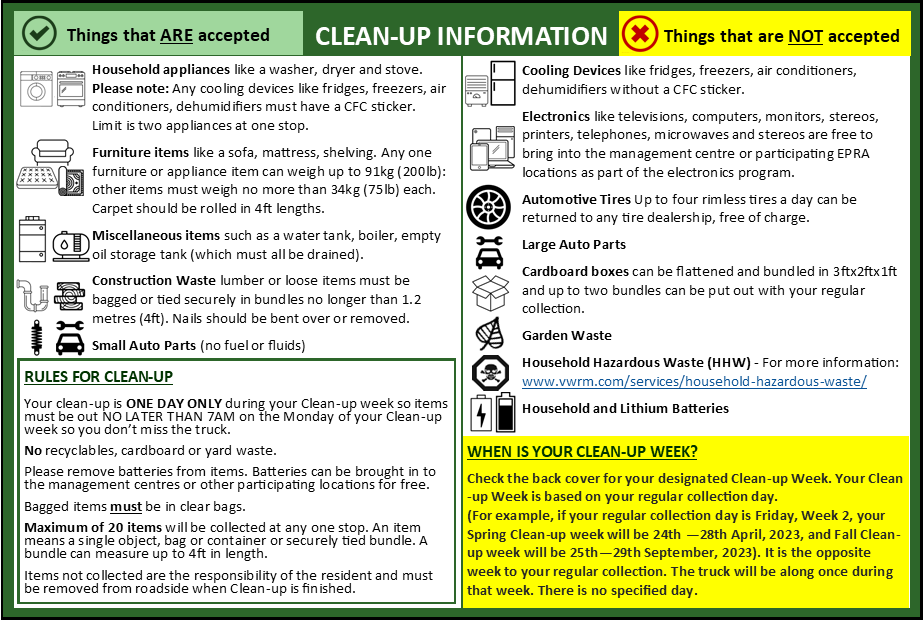 No more than 20 items will be collected from any one stop. An item is a single object, a bag or a securely tied bundle measuring no more than 1.2 metres in length.
Bagged garbage must be in clear transparent bags
No more than 2 of any one appliance type (e.g. washing machine, stove, water tank, etc.) will be collected at any one stop.
Items not collected during Clean–up are the responsibility of the resident and must be removed from roadside at the end of their clean-up week.
Lumber or loose items must be bagged or tied securely in bundles no longer than 1.2 metres (4 feet). Nails should be bent over or removed for safety reasons.
Any one furniture or appliance item must weigh no more than 91kgs (200 lbs). other items must weigh no more than 34kgs (75lbs).
Fridges, freezers and air conditioners cannot be collected until CFC's have been removed and a sticker applied to the unit. The Eastern Management Centre at 100 Donald Hiltz Rd. in the Kentville Business Park, and the Western Management Centre at 343 Elliot Road near Lawrencetown at Exit 19 on Highway 101 will accept and service refrigeration units for a $20 fee.
The truck will collect once during your allocated Clean-up Week. No specified day. Please check our calendar, the Clean-up week table or social media to determine your Clean-up Week.
Household Hazardous Waste (HHW), electronics, cardboard, recycling, leaves, garden waste, tires, household and lithium batteries are NOT accepted for Clean-up. Please remove batteries from items. For more information on how to dispose of HHW please visit our Hazardous Household Waste page.